Different shaped imprint bakeware pastry tools plastic embossed rolling pin
Quantity:
From $
4.00
&nbsp/&nbspPiece

Trade Assurance
protects your orders
Order protection service which protects online orders when payment is made through Alibaba's Trade Assurance.
Learn More
Trade Assurance reduces risks in:
If you have your own design, please contact us, there will have a professional customer service to communicate with you.
Don't have your files right now?No worries, Check out our art tips for more information.
If over 500pcs, mass production will start until pre-production sample has been approved.
Est. 7 days production
Quick Details
Type
Rolling Pins & Pastry Boards
Place of Origin
CN;ZHE
Usage
decoration for cake,ice tray etc
Brand Name
Easybaking
Model Number
rolling pin 4
Feature
Eco-Friendly
Certification
CE / EU
Weight
check according to the products
Material
Plastic
Packaging & Delivery
 Bakeware accessories pastry tools food grade embossed plastic rolling pin
EMBOSSED PINS- Made from food safe plastic, our fantastic set of embossed rolling pins is ideal to decorate any cake, pie or home made bake! Use with fondant, icing, marzipan, pastry and dough for perfectly patterned decoration which looks outstanding yet super simple to achieve with just a quick push of the pin!
Why not use them to pattern print with paint, mould with playdough or print on clay!
PRETTY PATTERNS- Our fantastic quality set includes 8 patterned rolling pins to suit all occassions!
Each set will include a tuquoise pin in a butterfly pattern, a fushia pin in a hearts and roses pattern, a vibrant yellow pin with a daisy pattern, a white pin embossed with a mesh pattern, a lime green pin with a diamond and flower design, a pink pin with an even heart pattern and an emerald green pin with an elegant leaf design.
INSTRUCTIONS- Each rolling pin comes with illustrated instructions on how to roll out icing and use the pin, however, for best results, we recommend rolling out your icing on a lightly floured/sugared surface.
Use a plain rolling pin to mould the icing into your desired shape then finish using the prefered patterned pin for an amazing decorative effect.
MEASUREMENTS- These rolling pins are fantastic for all to use.
Each pin measures 25cm in length (not including handles), 15.5cm in circumference and 4.5cm in diameter.
The large body length is great for rolling across wide lengths of fondant in one easy stroke for an even textured result.
If you fancy something sweet, nothing is sweeter than this super-cute rolling pin !
The rolling pin itself is shaped like your any shapes.
We accept any designs.
Perfect for making a very lovely soap, jelly, chocolate or candle with it.
Make a great Gift for your children or friends in the their anniversary, birthday! Never miss it!
Great for kids and adults alike.
Easy clean rolling pin makes gorgeous sweet treats with ease.

Features
• Lovely decoratived rolling pin
• High Quality Food Grade Plastic
• Super Easy to Use & Clean
• Reuse Again and Again
• Safe in Oven, Dishwasher or Freezer

Measurements
• Food grade plastic custom cake fondant rolling pin
• Colour: it is up to you 
• Material: Plastic
 ----We are one of the most professional supplier
 ----We have own factory in order to calculate best  price and control good quality, prompt delivery time.
 ----Our company has been over 200 employees with  fast growing up. It is powerful in technology and  producing capability. With fresh and attractive styles,  exquisite and elegant appearance.
 ----Our products are becoming more and more  popular. Especially in USA, European countries, Japan,  etc.,
Special services

Customized: 

Designs according to client's requirements such as new shape, material, color, size, printing, packaging and so on.

OEM & ODM:

Our factory was founded in 2006, We have rich OEM & ODM experience. With rigorous and efficient management team and perfect management system. Will provide you with high quality products foundry services.

Agency services:

We have a professional procurement team with comprehensive understanding the market & suppliers. Help customers use less money to buy more & better products, reduce operating costs & improve market competitiveness.

Please tell us your requirements we will try to meet, have any questions please contact customer service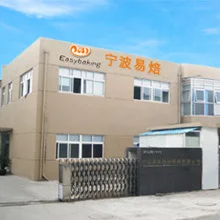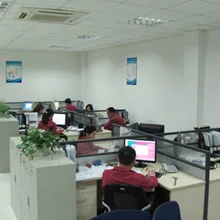 Business Type
Trading Company
Country / Region
Zhejiang, China
Main Products
cake decorating tools,silicone mold,cake tools,Custom Product,cookie cutter
Total Employees
51 - 100 People
Total Annual Revenue
Above US$100 Million
Year Established
2014
Certifications
Product Certifications
Patents
Trademarks
Main Markets
Eastern Europe 22%
Western Europe 21%
Northern Europe 10%
Ningbo Easybaking Bakeware Co., Ltd. is a professional enterprise that integrated development, design, manufacture and sales. The factory was founded in 2006, has nearly 10 years of production experience. Provide OEM and ODM services for domestic and international famous brands, We are specializing in the production of cake decorating tools, silicone molds, cake molds, chocolate molds, acrylic rolling pin, baking tools and other products. We insist on our strict quality control, all of the products have passed FDA and LFGB certification. With good management and good product quality, convenient transportation (near Ningbo Port) we have won a lot of customer's good evaluation. In order to better serve customers around the world, we established a sales company and set up our own Brand-EASYBAKING.

Cake making and cake decoration are not only for living, but also a kind of Art, and innovation is the only source of the Art vitality. By continuous development and innovation, the pursuit of perfection, adhere to customer-oriented business philosophy, the introduction of advanced production equipment, establish a perfect management mechanism. We provide professional product customization services, purchasing agent services, etc. With unrestrained passion, wholeheartedly committed to the development of exports, heart to heart service to our customers, and sincere enthusiasm to welcome cooperation all over the world!
No need register, just fill in contact info below, we will reply you within 24 hours!
Enter the code in the box below: